Does your facility have commercial quality, or is it "photoshopped" to look like a television commercial? Working with a pest control provider can be a great way to address issues that are unexpected or difficult to manage. Your experienced pest control operator should be able to offer correct identification of pests and solutions for exclusion or treatments when necessary. Utilizing pest sighting and corrective action logbooks will keep your facility audit compliant. Those facilities who don't need to maintain strict audit standards, can use these tools to take the needed corrective actions, and keep your products safe. Many experienced pest management companies, including Horizon Pest Solutions, LLC, use software to digitally track the pest pressure, issue trending reports, log corrective actions, and compare how treatments are working.
It is common for employees at commercial facilities to go in and out frequently for shipping and receiving duties. When was the last time your staff was threatened by stinging insects?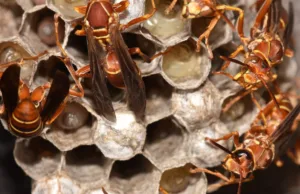 Wasps like the shaded areas at dock doors to build their nests. An attentive pest management professional should remove these nests before they become an issue. A simple solution of water and soap sprayed after the nest removal can be a deterrent without having to use harsh chemicals.
Facilities that are considered food-grade have a different set of complexities. Is your pest professional well versed in this type of facility? Stored product pests such as Indian meal moths, flour beetles, and various weevils can damage products and cause monetary losses. Monitoring for these pests can help pinpoint where the pest pressure is. Pheromones, glue traps, and insect light devices are the best ways to monitor for crawling and flying insect activity.
If you are ready to make a change, give Horizon Pest Solutions a call 785-914-3684, or send an email to [email protected]